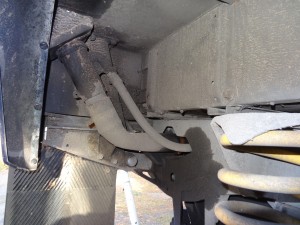 A few months ago we looked at fitting a Safari Equip auxiliary fuel tank as it looked like a good solution to add extra fuel capacity without using up any storage space. It fits under the wheel arch, replacing the pipe between the filler cap and the fuel tank and adding an extra 30 litres of fuel capacity allegedly.
At the time we couldn't see a way of making it fit though as the roll cage mount clashed with it so we ruled it out. Having talked to Brendan at 4×4 Overlander at some length he offered to "loan" me one so I could try and see if I could modify the roll cage mount to move it out of the way.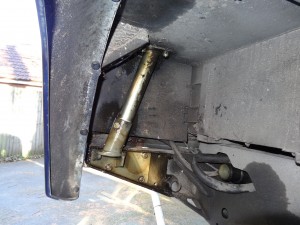 It took a couple of days to fit due to the changes required to the roll cage mount but, in the end it was possible. On the P&P cage the roll cage brace that goes to the chassis goes to the rear cross member next to the chassis. The aux fuel tank has a cutout in it that looks to be to accommodate a roll cage brace BUT it is for a brace that goes to the end of the cross member.
By spinning the bracing bar through 180 degrees and making a new bracket from the old one and some 6mm plate I managed to reverse the direction of the bracing bar, allowing the tank to fit around it. It's a close fit and I had to grind the plate down as close to the tube as possible but the tank would just squeeze in.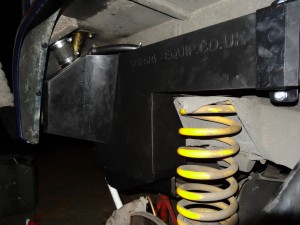 Like many of these jobs it took a lot longer than expected but after two days of fitting, measuring, removing modifying and fitting again it finally went in and was plumbed in, ready for it's first fill. We still need more fuel capacity but the current thinking is that I look at moving the electrics out from under the driver's seat and fitting an old style underseat fuel tank which, with the standard tank and auxiliary tank will give us around 140 to 150 litres in total.