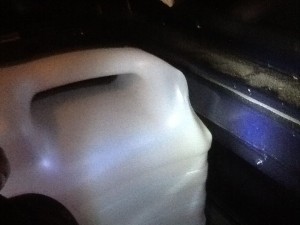 We've been looking at a number of ways of carrying enough water in the vehicle. It would be nice, in some ways, to have some sort of fancy built in water tank with a pump and a tap at the rear of the vehicle etc… In the end though we decided to try and find some decent 10 litre containers with taps so we can have some flexibility.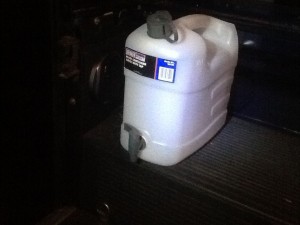 We found some ideal looking water containers at the right price but when they arrived they wouldn't quite fit on the wheel arch where we needed them to go due to the shape of the rear tub. A quick consultation with Brendan suggested I might be able to modify them by heating them in boiling water. 30 minutes later, with the aid of a pan full of boiling water, the bottles were reshaped to fit the shape of the tub. I was surprised just how soft and pliable the plastic got at comparatively low temperatures.
We can now fit three of these along the wheel arch next to the fridge.
I replaced the ARB locking diffs in my challenge motor with Ashcroft lockers with the intention that the ARBs will go into the 90. Sent the ARBs off to Crown Diffs to have them reconditioned and tested.