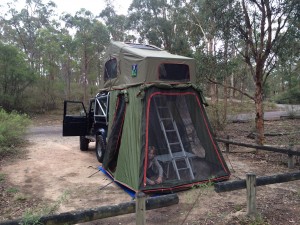 The weather was rather unkind to us after our arrival at Coledale Beach after arriving in sunshine and going for a stroll on the beach and a paddle. Having booked two nights we stuck it out all day Thursday in the vague hope that the skies would clear and the rain would desist. Sadly none of the above came to fruition and as we got damper, the rain got heavier and the temperature dropped below 20C so we decided to head inland.
There were a couple of sites we liked the look of but we decided to rule one out due to the river crossings that, given the rain we'd had, might be a bit deeper than we wanted to negotiate. The safe option was to head to Bungonia , a drive of about 4 hours after being forced to take a detour after our planned crossing over the Maquarie Pass was blocked by an accident. The detour was quite long but very picturesque as we cut through on the Kangaroo Valley Road instead.

On arriving at the site it seemed we were the only people there and compared to Coledale the peace and quiet, lack of wind and, most importantly, no rain made it seem positively idyllic ! Just in case things take a turn for the worst, we've set up in all weather mode with the annex being used for the first time this trip. The main tent is still wet through but starting to dry out at last.
We expect to stay here for two nights now and travel again on Sunday, by Monday the temperatures are forecast to get back up into the mid to high 20s and the skies should be clearing so we can decide where our next leg will take us.