We took a few detours today as it stayed dry and relatively warm, hopefully we've seen the back of the rain and cold winds for a while !
We took a trip down the coast access road from the camp site to start off with. It has a number of different roads that split off it to access different beaches and features. The beaches looked inviting but it was still a bit chilly to encourage either of us to go for a paddle. We also stopped off at the large cave complex but it was a bit expensive for something we weren't too bothered about so we moved on.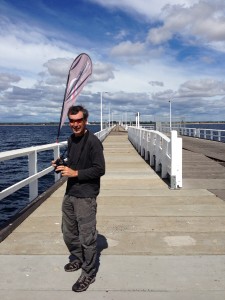 We headed to Busselton then as we'd heard good things about it. By the time we got there the sun had started to warm things up a bit. The jetty at Busselton is 1.8km long, it was longer but part of it was destroyed in a fire in the 90s. It was originally a working jetty used to ship cargo internationally and the shallow slope of the bay and the larger and larger ships using it meant they just kept adding new sections to it. There's a train service that is marginally faster than walking that runs the length of it. At the end of the jetty is an underwater observatory that has windows at different levels as you descend to the sea bed.
The observatory was worth a look, the number and variety of fish visible was impressive, just shows how little you can actually see from above the surface. After the tour of the observatory we chose to walk back as it was quicker than waiting for the train.

From Busselton we set off for tonight's camp site, another National Park site at the side of a reservoir. Once we'd set up and had an early tea we went for a wander down the side of the reservoir. We're planning to head further north tomorrow, possibly to the outskirts of Perth although we may choose a site somewhere in between this one and the planned one yet, we'll see how tomorrow progresses…