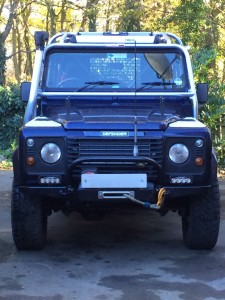 For Australia we felt we were a bit short of frontal protection, hitting a kangaroo at some point in our trip is pretty much a certainty and the radiator is a bit vulnerable. We didn't want to go too overboard  but felt that some extra protection would be worthwhile. We settled on adding a simple A frame to the top of the bumper that sits around half way across the exposed radiator area. With a bit of luck if/when we get a roo strike it will reduce the chance of any serious damage to the vehicle.
With hindsight we probably should have got a winch bumper with an A bar in the first place but didn't really like any of those available. I had to call on the services of Patrick at Maddison 4×4 to bend up some CDS to approximately the right shape and I then made up some spreader/mounting plates that bolt to the top of the bumper using the existing bumper mounting bolts and a couple of additional bolts at the front.
I added an aerial mount to the A bar while I was at it but it wasn't until after it was welded, painted and fitted that Pam pointed out we should have added provision for a sand flag mount ! Sand flags are a good idea regardless but they're expected to be mandatory on the Simpson Desert routes for 2014. I might add a mount to it and repaint… or we might just end up using some tie wraps and duct tape !
While I had the drill out I also drilled the mounting holes for the front LED spotlight bars to mount to and connected them up to the wiring loom I'd already added.