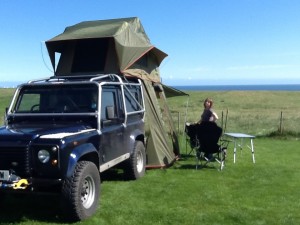 We've been involved in off road competition in Land Rovers in the UK and abroad for more years than we care to remember. In more recent years we've competed in Australian off road competitions a couple of times and that, really, was the start of the travel and overland bug.
The two Australian off road competitions were relatively hurried affairs, a 3 week whirlwind of activity with a week of competition in the middle and the week either side clearing and preparing the vehicles and then getting them back into the container for the return trip.
The threat of redundancy loomed large shortly after we returned from the second Australian trip and  that was the trigger that set the whole plan in motion – what would we do if the threatened redundancy became reality ? We both wanted the opportunity to see more of Australia and explore it in our own vehicle. All we have to do now is turn the dream into reality…
So it was that in 2011 the big plan started to be formed. We explored a number of options around the vehicle that we would use but, in the end, cost and practical considerations kept pointing us back at using our existing Land Rover Defender 90, a vehicle we've owned for over 10 years. It would need a decent amount of work to get it into a suitable shape and no small amount of money but at least, at the end of it we should have a vehicle that will allow us to realise our dream trip to Australia and if we haven't ended up with a divorce, who knows where the next big plan will take us after that !
This blog is intended to follow our progress, initially in preparing the vehicle and our "test trips" and once the big trip is under way we'll be posting updates, locations and photos when we can get access to WiFi .
Now we've arrived and sorted out our phones, my new phone number while we're in Australia is:
(+61) 474 266 427