We'd intended to have a steady day today. We started off early, leaving the camp site and getting into town before 8am. We stocked up on food (no veg or fruit.in preparation for the quarantine areas) for a few nights at the supermarket and fuelled up at the roadhouse in town.
We then set off towards Timber Creek, our expected stopping point between Kunnunara and Katherine.
Before too long we crossed into the Northern Territories, saying a fond farewell to WA. That also meant we crossed a time zone pushing the clocks forward by an hour and a half. Psychologically that gave us a shorter day although obviously it would also mean it'd stay light until gone 6 pm.
The two Timber Creek camp sites, or at least their descriptions on WikiCamps, were uninspiring and at a rest area before we got to Timber Creek we took the decision to go straight through to Katherine and then stop there for two nights. It would mean travelling 511km in the day but between the two of us we've done it before and the site at Katherine sounded more appealing.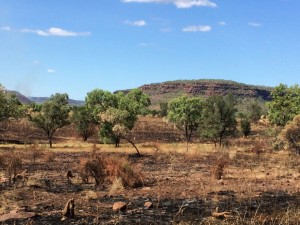 The Victoria Highway which we were following is another attractive road that runs primarily along the valley bottoms with escarpments on either side. Lots of small bush fires along the sides of the road which we think are deliberate, burning back the undergrowth after the wet season to create "natural" fire breaks.
So, we pushed on, arriving in Katherine at around 4.30pm. The site is very nice, lots of grass and lots of space. There are also lots of posters and warnings about the local salt water crocs – the swimming pool is the only place we'll be swimming this far north !
Katherine is probably the furthest north we will get on this trip, when we leave on Thursday we'll be heading south towards Alice Springs. Tomorrow will probably be a rest day, hopefully the humidity will drop a bit. Alice Springs is around 10 degrees cooler in the day at the moment, which sounds nice 🙂