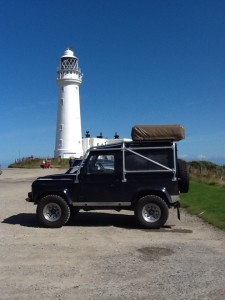 Our final destination for our mini trip was Flamborough Head – a quick visit to the lighthouse offered a quick photo opportunity. Then off to the campsite to set up, followed by a walk down the coast to the pub for a bite to eat.
All in all our mini trip was quite successful. We experienced a range of weather conditions and  found a few problems and areas which we need to modify, as well as a lot of things that worked well. The 90 performed well and the extra load was no problem.
The suspension all worked well even on some of the very minor roads with pot holes, hump back bridges and tight bends that gave me a chance to test it's stability and handling.