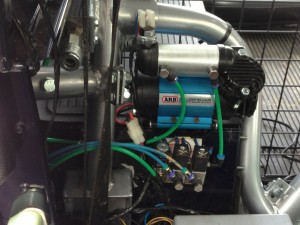 The last few days have been busy finishing off a number of jobs in final preparation for the trip to Scotland for the Muddy Truckers Trophy, the weather forecast hasn't improved any… if anything it's got worse, it'll be a cold one that's for certain.
Anyway, got the internal rear window guards all fitted in the back and the rear work lights wired up. The auxilliary fuse box is completely wired back in and providing power for everything it needs to, including the fridge although that may not actually be a necessity for this trip given the forecast temperatures !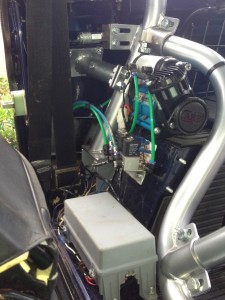 The ARBs came back from Crown Diffs so I fitted the rear one together with the spare Ashcroft half shafts. I've had those shafts since 2008 when they formed part of the spares kit we took to Australia. They were never used so it makes sense to upgrade the 90 axles with Ashcroft shafts and CVs. The front axle will have to wait until after the Muddy Truckers though as we're missing a couple of bits.
I plumbed in the ARB compressor, running the pipework for both front and rear diffs, the winch free spool and an airline connector on each side of the vehicle for blowing up tyres etc…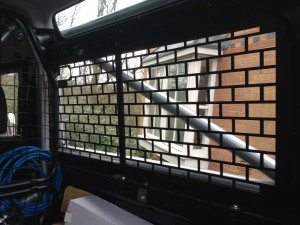 Other than packing some tools and the rest of our camping gear, clotting, food, water etc… we're about ready to go. The pile of bits in the dining room is definitely diminishing 🙂