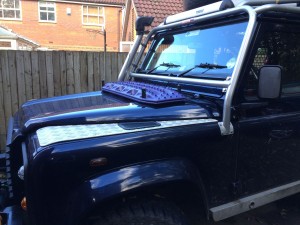 One of the restrictions that using a 90 places on us is a distinct lack of space to store stuff ! With the spare tyre on the roof (the only place that can go) the only place left for the MaxTrax boards to go is to mount them on the bonnet. I had toyed with hanging them on the sides, putting them on top of the spare tyre, putting them on top of the tent and so on but it didn't really work.
The boards (there will be 4 of them, 2 shown in the pic) are a great aid for getting the vehicle moving, especially on soft sand, and as such they really need to be readily accessible when we do need them and quick and easy to stow again when we get moving. We bought a set of the official mounting pins for them from Australia (much cheaper than buying them in the UK and they were delivered within 3 working days – very impressed !). They hold the boards firmly and the boards don't touch the bonnet at all. Obviously their position on the bonnet had to be carefully thought through – as far back as possible but far enough forward that the bonnet can be opened without fouling the roll cage !
We chose the purple boards as the colour kind of blends in with the pearlescent blue of the 90 which tends to take on a purple sheen in sunlight.
Last job on Saturday was to remove the roof tent for the final time before it goes in the container and with gale force winds forecast for Sunday and Sunday night the last thing we need right now is to have a tree land on it ! It's currently sat in the living room, opened up, so we can clean it out thoroughly and give it a final check before packing it for shipping.