With the impending "container day" now a fixed point on the horizon we're working our way through the list of all the things we want to get done before then. The fuel/battery monitor is still a work in progress but in the final stages now at least. There is still a fairly long list of items other than that and, while the weather is good, I'm trying to make the most of it by getting some of the "outside" jobs done.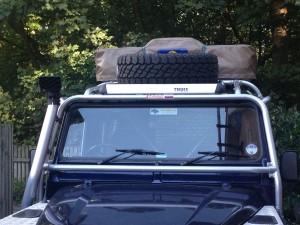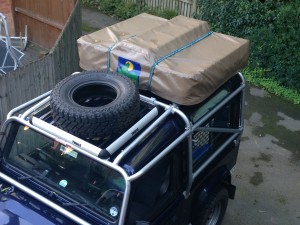 As fabrication jobs ALWAYS take ages to do I chose the biggest (I think !) remaining job to do first. We want to carry the second spare tyre (not mounted on a wheel) on the roof. We did try it on the bonnet but the amount it reduced visibility was unacceptable. To support the tyre and to allow other light items to be stored up there too we bought a small Thule roof basket. This sits just nicely in the front section of the roll cage. Mounting it meant making up some custom brackets to allow it to be bolted to the cage and it also needed a cutout adding at the back as the tyre is about 20mm too big to sit in the unmodified basket. It took a couple of days thinking, cutting, fabricating brackets, rethinking the design when it didn't quite work etc… ! Anyway, the finished product isn't going anywhere and also makes it easier to climb around on the roof as a bonus. We'll put a vinyl wheel cover over the tyre and store some of the lighter spares inside the tyre – spare coolant hoses etc…
Having read through all the rules/regulation regarding shipping vehicles with air conditioning we've come to the conclusion that the various cons of the air conditioning outweigh the benefits so I've removed the air con components and pipes apart from the compressor. The extra leg room will be a benefit and the reduction in complexity when working on the cooling system and so on will make life simpler. We might replace the compressor with an idler pulley although I might have time to convert it into an air compressor as an alternative to the ARB for pumping up tyres etc… We're not anticipating encountering stupidly high ambient temperatures with the route we have roughly planned out and if we do… well we'll just have to suck it up 🙂
I finally got around to replacing the windscreen hinges and the door hinges too – the windscreen hinges were badly corroded and looked a mess, the door hinges – especially the driver's door – had a lot of play in them and I'd previously had to adjust the striker to compensate.