We spent the first couple of days in Sydney getting acclimatised, checking the Land Rover over and shopping for the essentials that we couldn't import with the Land Rover. One (maybe the only) drawback of having a roof top tent in Sydney is that it's full of multi-story car parks with 2.1 metre height restrictions !
Eventually we found the stores we needed and now have food, phone sims and a new gas stove and bottle. The Cadac stove we brought with us wasn't compatible with the Australian gas bottles/regulators/pipes so we ended up buying the Coleman stove we'd originally wanted but couldn't get in the UK. That meant dumping the Cadac stove which goes against the grain for an adopted Yorkshire man but we don't have the space to carry two stoves.
This morning we took a ride over to Narabeen to meet up with an old friend and came away with a good list of places and tracks for our journey to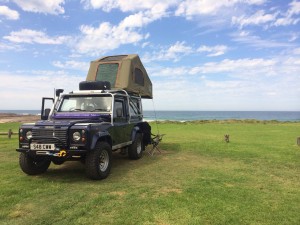 Melbourne.
We then headed south and out of Sydney to Coledale Beach to spend a couple of nights by the sea before moving on. This is another spot we'd wanted to visit on the recommendation of Celia and Eugene.
We took the scenic route where we could, cutting through the Royal National Park and then following the coast road down to Coledale. With the views, vegetation and scenery it has started to feel more like the Australia we fell in love with on our previous visits. Lane Cove was a bit of a haven in the city but you knew you were in the city still.
I'm sat now looking out over the sea and the beach with an iPad in one hand and a cold one in the other, what more could you ask for 🙂