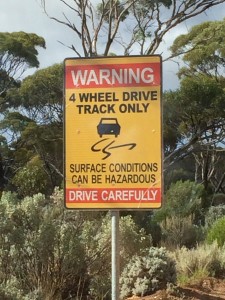 A quick trip down the road to Belladonia for fuel, coffee and muffins 🙂 The roadhouse has a small museum which has replica bits of the Skylab, bits of which were scattered around the region when it re-entered the atmosphere in 1979.
There are also a few exhibits showing the Redex reliability trial which pretty much followed a similar route to the one we're taking. They did it a lot quicker though and in some pretty basic cars.
From Belladonia we headed due south in the unsurfaced road, heading to Mount Jagged via the main unsurfaced road and then following the smaller 4×4 only track. At Mount Jagged we swung west towards Esperance intending to stay the night at Lucky Bay as a number of people have recommended it to us.
The track was pleasant, especially the narrow 4×4 only bit, as it wound it's way through the bush. There were a few sections of really bad corrugations that forced us to a slow crawl but most of it was stretches of rock followed by soft sand followed by more rock. The stretches of white sand were particularly soft and once or twice we thought we might get bogged down in it but a mix of momentum and right foot kept us moving 🙂 Not a track you'd want to try in the wet as some of the big holes and ruts testified.
The corrugations finished off the job of loosening the spare wheel carrier which started making a worrying banging noise after each bump in the track. Once we'd figured out what it was and that it was nothing to worry about we kept going.
There's a 12 dollar charge for the Cape Le Grand National Park and the first of the two camp sites was full which was worrying as the second camp site (Luck Bay) is the most widely known. We were starting to have second thoughts having paid the park fee but when you come around the corner on the road to Lucky Bay and see it below you it really is an awe inspiring site. We decided it was worth the fee even if the camp site was full.
As it happened there was a spare spot in the camp site so we pitched and went for a wander on the beach, very windy though. We were pitched near another Defender TD5 which belongs to a Swiss couple touring WA having shipped their 110 over. I tightened up the spare wheel carrier where it joins to the back door, we'll see if it comes loose again later !
No Telstra signal here so will have to post this tomorrow. We'll be heading into Esparance for fuel and to find a supermarket then heading further west along the coast looking for a nice spot to spend a couple of nights.