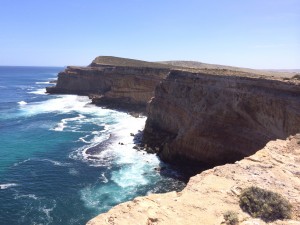 We ended up going a bit further than anticipated today. We left Memory Cove in reasonable time and arrived back in Port Lincoln for around 11am. After handing in the key we then set off North West with the intention of staying the night at Streaky Bay.
With a couple of minor detours and stops (including a cafe that does a marvellous bacon and cheese roll) we started looking at suitable camp sites as we approached Streaky Bay. None of the few available spots appealed to us so we decided to press on to a community site a bit further on at Haslam.
Having arrived at Haslam we found the site absolutely heaving with every available spot and a few more having some form of Motorhome or caravan parked on it. We decided to press on, stopping next at Smokey Bay, again this was full.

Our next option was to head to Ceduna with the sun getting lower and us heading more to the west directly into it. Fortunately the caravan site at Ceduna had a space available and the cost wasn't over the top so we ended up pitching at Ceduna. For some reason there is a quarantine point at Ceduna that was closed when we came through. Seems an odd spot as we're still 500k from the WA border.
The wind has dropped a bit now but it's still gusty and keeping the temperatures down. Mid 20s again today during the day.
I seem to have found something approaching the best cruising speed for MPG with today's fill up after 400+ miles giving over 27 MPG, not sure it'll be possible to improve on that much without losing some weight/drag from the vehicle.
We're starting to get to the point where we'll be crossing the Nullabor, not sure what we'll have in the way of phone signal/internet access during the crossing so don't panic if we don't post anything for a few days !