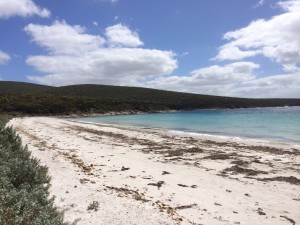 The wind picked up last night with a weather front moving In from the south. There were some very strong gusts that shook the tent leaving us with a fitful sleep. With the winds coming from the south the temperatures also dropped which I'll admit was a bit of a relief as yesterday it was nudging over 30 degrees C and today's temperatures in the mid 20s were more pleasant.
We had a relatively gentle day today, starting with a drive down to Port Lincoln to the Info centre where we got our park permit and, fortunately, the last available camping spot and gate key for Memory Cove. The cove can only be accessed through a locked gate in the Lincoln national park and it's an hour long drive from the gate to the cove on rough 4×4 only tracks. We explored other areas of the park before heading to the locked gate so it was around 1pm when we arrived and set up camp.
We were a bit concerned that the strong winds would be a pain on such a relatively exposed piece of coast but the cove itself is actually very sheltered with only a cooling breeze giving any indication of the strong winds that could be felt elsewhere on the peninsula.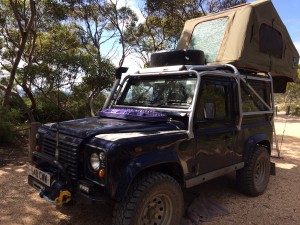 The cove itself is an idyllic spot and our early arrival allowed us plenty of time to relax on the beach. The five camping spots are all within about 20 feet of the beach so once the tent was deployed and we'd had a chat with one of the "neighbours" we set up our chairs on the beach and simply chilled out for the rest of the afternoon, soaking up the sunshine and enjoying this peaceful retreat.
No phone reception here so this will have to be uploaded to the site tomorrow. We're planning to head North West again tomorrow perhaps as far as Streaky Bay but we'll have to see where we get to. It's a good hours drive from here to the locked gate and then probably another hour to Port Lincoln to hand the key in.