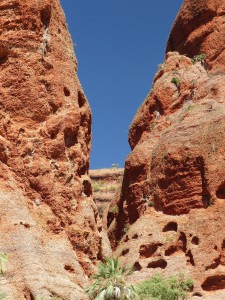 From Halls Creek to the Purnululu NP is around 150k although the last 60k is unsurfaced and very rough in places. We set off in good time and were surprised, on the Tarmac road, to see hundreds of Black Kites sat along the road. It took us a while to figure out what they were doing as some of the ones that we're flying would swoop down at the road surface with their talons open.
It soon became apparent that there was some sort of seasonal epidemic of grasshoppers or crickets and they were crossing the road. The kites were determined to make the most of an easy meal.
The unsurfaced track into the national park was good fun for me, bringing back memories of some of the tracks we raced along in the Outback Challenge competitions. The tight turns, descents and climbs with an occasional river crossing were great to drive but Pam was feeling a bit green, not helped by the hot sun that was mostly on the passenger side.
On arriving at the NP we registered for a night's camping and then headed north to the Echidna Chasm. The tracks inside the NP were, fortunately, much smoother than the track in !

I think, like many of the places we've seen, it's difficult to capture this kind of scenery with a camera. The walk through the chasm was fascinating and in some places quite challenging. Rock falls had partially blocked the way at one point and you had to thread your way through the huge boulders. The final part of the chasm was closed, presumably due to similar boulders.
In the late afternoon we headed back to the camp site, set camp and had an early tea. The camp caretaker came round to let us know what time the sun would set in case we wanted to see the sun come down over the Bungle Bungle Range. As it was only a 1k walk we decided to head to the view point. It's a very tranquil place, not sure why it should be so, you just have to be there I guess.
I'll mention the cane toads in tomorrow's blog when we've headed out of the Bungle Bungles and are heading back towards the Gibb River Road.