First thing this morning we took a trip to the southern part of the Purululu National Park to see the Cathedral Gorge. We'd expected it to take a while but combined with our early start we'd completed the walk by 9am. As a result we decided to have a bit of a marathon day and try and make it all the way to Fitzroy Crossing before dark.
Last night we came across something first hand that we'd known about through documentaries and so on but never expected to come face to face with the reality. On our walk to see the sunset we noticed a lot of dead toads on the track leading to the view point which, from the information on the various boards we've seen, all looked to be cane toads.
As it got darker it was apparent that the area is completely overrun by them, everywhere you walked on the roads or in the camp site you'd see them hopping away from you. The camp caretaker rounded up 300+ last night and they've barely made a dent in the population. Now alerted to them, during the drive out of the park, every creek/River crossing we made saw loads of the cane toads running off the road. We tried to do our bit by running over as many as possible ! They are an introduced species that is playing havoc with the local wildlife, sending some species into extinction.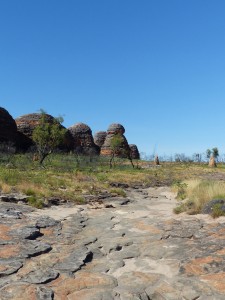 Anyway, today we made a dash for Fitzroy Crossing, 500k in total but by sharing the driving and with suitable selection of loud music we made it in time to set up camp before the sun went down. It's one of the best things about this country, you can stick at 100km/h for 5 hours and not see another vehicle in front of you.
We've booked in here for 2 nights as it has a bar, a restaurant, a pool and a laundry. We'll then set off refreshed on Saturday morning to the Gibb River. Road again and this time we'll drive what is open.
We'll be out of phone/internet contact for a few days now so I'll probably be unable to post any more blog entries until we reach the end of the Gibb River Road.