After a restful stop at the Fitzroy Crossing Lodge, including two nights of eating out and sampling the draught beer, we returned to the Gibb River Road today after topping up our fuel and water at the Fitzroy Crossing fuel station.
Our first stop was at Tunnel Creek, just off the Leopold Downs Road. We'd passed it on our way out from Windjana Gorge but hadn't stopped last time. This time we stopped off for a look.
Tunnel Creek is a subterranean creek that cuts through the Devonian Reef for around 2km. The quartz rich rocks and boulders you have to clamber over to get into the tunnel/cave system are quite daunting and then, once you enter the tunnel you need a torch to proceed. There aren't any signs to show the way and once we were confronted with having to wade through water of indeterminate depth, in the dark, with no idea if we needed to go left or right, we decided not to go any further.
From Tunnel Creek we rejoined the Gibb River Road proper, resuming our journey east along it to head to the, hopefully now open, Silent Grove camp ground. The scenery along the GRR a this point is stunning and the road itself is mostly in good condition although it did seem to deteriorate with more holes and corrugations the further east we got. The road is now open to road trains too, they kick up a LOT.of dust compared to normal 4x4s so when you see one coming the other way it's as easy to almost stop while the dust disperses.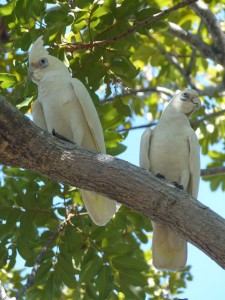 Thankfully when we got to the Silent Grove turnoff there was a sign declaring that both Silent Grove and Bell Falls are open. Although it was still early afternoon neither of us fancied the 4km walk to Bell Falls and back in the heat of the day so we set up camp early with the intention that we'll get going early in the morning and try to cover some of the walk while it's still relatively cool.
As anticipated, there's no internet here so not sure when I'll get to post this to the blog !